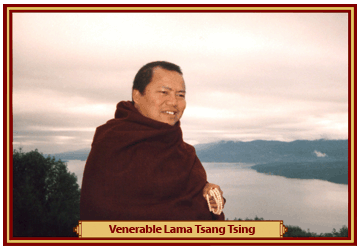 Dear Sangha and Dharma friends,
Venerable Lama Tsang Tsing is going to India in mid-October of this year. He has not been able to travel to Asia in several years due to Covid restrictions.
During this trip Lama-la plans to visit as many Monasteries and Lineage Lamas as possible and would like to give them all offerings on behalf of his western students. Because of Lama's age and health this may be one of his last opportunities to do this.
This is a wonderful opportunity for us to accumulate merit and to support and create a positive connection with our lineage holders. All of the donations that we make to Venerable Lama Tsang Tsing will be used entirely to make offerings on our behalf. Please donate as generously as you can and send your donations to Venerable Lama Tsang Tsing by the first of October.
You may make your checks payable to Lama Tsang Tsing, or to KDC if you wish your donations to be tax deductible. If you make your checks payable to KDC, please indicate if you need a receipt and that the donation is for Lama Tsang Tsing's offerings. Mail to: Ven. Lama Tsang Tsing, 215 E 33rd Avenue, Eugene, OR 97405.
Please take advantage of this special opportunity!
Lama Damtsik
KTP Resident Lama
Sebastopol, CA